Giving Away Promotional Items That Give Back
If you are new to the idea of promotional products for marketing (or even if you're not!) you may have this idea that giving away free stuff is great for marketing, but not really be entirely sure how. And it's very true that just giving away products with your company logo on it is not quite going to cut the mustard – like any form of marketing campaign you need to give serious thought to your goals and target market before creating something suitable and then measuring its success.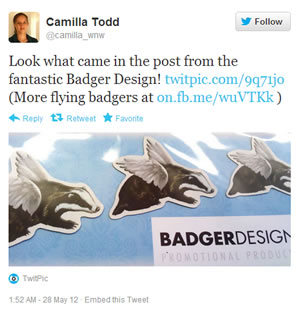 In this blog we aim to outline some basic ideas and tips for ensuring your promotional marketing campaign is productive and relevant.
Give Something People Will Want & Keep!
Kind of obvious advice, but also surprisingly easy to ignore. There are a wealth of promotional products available.  You can barrage your customers and potential customers with as many items as you like, but if they are put straight in the bin your promotion isn't working. You need to create items that have enough use, convenience or appeal for people to keep them around; one of our customers phoned recently and mentioned they had had one of our coasters on their desk for 10 years and it was still going strong; I would consider that quite a success.
Know Your Target Market
Crucial to the above point is figuring out your target market. If you are targeting businesses you could consider coasters, memo clips and computer wobblers etc.  You also need to decide if you're targeting existing customers or new customers. If you're aiming to reach associates of your existing customers for example, you may want to focus on something they will take with them to others, to increase visibility.
Don't Skimp
This product is going to bear your logo and represent your company, spend enough that it's durable and useful and gives a good impression, after all you want it to be kept around for a few years and earn its cost!
Spend An Equal Amount Of Time On Your Custom Design
Don't just use the standard logo with no thought behind it – after spending time and money on the rest of your marketing campaign ensure that you make it effective by getting some dedicated graphics done. Don't decide on a promotional fridge magnet and leave it there – find a way to create a magnet that will catch the eye, or something unique enough to get people wanting their own.So give your complete campaign some serious thought, work out a budget, goals, your target market, and then pick something fantastic that you know will stick around and present your company in exactly the way you want to be seen.