At Badger Design, we're always looking for new ways to make our company as eco-friendly as possible. Environmental welfare is at the forefront of everyone's minds, with customers and businesses all looking to do their part. We're really pleased to be able to offer recyclable, recycled and bio-degradable options for some of our products, and are constantly looking at new production methods to increase our eco-friendly range.

Read our full environmental policies here: Office Policy & Manufacturing policy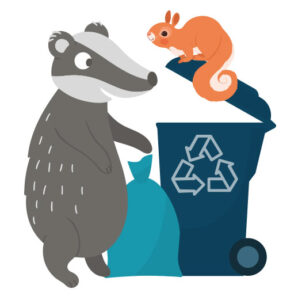 Our products 
We're always on the look out for new sustainable promotional items to add to our increasing range of magnets, coasters and stickers. Where possible, the materials for our products come from sustainable sources, such as our cork, plywood, slate, glass and ceramics. Even the acrylic we use for our coasters and magnets is recycled! All paper we use is fully FSC certified. 
For our range of printed window, vinyl and paper stickers, we use non-toxic and non-pvc based materials wherever possible. In 2021, we added biodegradable and recyclable paper stickers to our promotional product list. 
More technical data for each of our products can be found on their individual pages, or you can contact us. 
Packaging 
Outer cartons are fully recyclable, made from 50% recycled board. All orders are delivered in cardboard boxes that can be readily recycled and sealed with a paper kraft tape. We also use paper based padding instead of plastic bubble wrap to keep your items secure.
Couriers and Delivery 
The couriers we use for the transportation and delivery of our products are committed to reducing their Co2 emissions and use aero dynamic fuel efficient vehicles.