You 'Ain't Seen Puffin Yet!
Over the weekend one of our team ventured into dark unknown…the North! Ok, so when you're in Devon everywhere is North, but our colleague, Joely, headed to the small coastal town of North Berwick on the Firth of Forth, Scotland, for a bit of bird watching. She had some very interesting things to report during our Monday morning coffee break.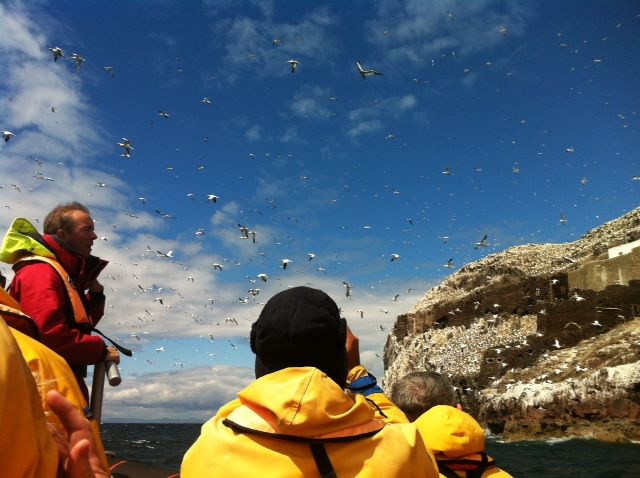 The Firth of Forth is home to over 500,000 seabirds including the biggest puffin colony on the east coast of Britain, while the Bass Rock houses over 150, 000 gannets, the largest seabird in the UK! In North Berwick you can also find the Scottish Seabird Centre. As well as their amazing conservation work, they also run various boat tours to and around the islands. Joely took a high speed RIB (rigid inflatable boat) to the Isle of May, a 1.8 km long island and spent three hours getting up close and personal with the wildlife. Well, apparently some of the wildlife got a bit close and personal with the visitors. The very hospitable Artic Terns gave a warm welcome in the form of dive bombing and pecking and some were even kind enough to leave a little memento on coats and hats for everyone to take home…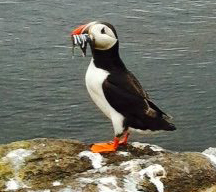 Once out of the firing line, however, were the much more friendly puffins.
With their black and white bodies and bright orange and blue beaks, Puffins are often known as the 'clown of the sea.' The small bird spends the majority of the year at sea, so it's an amazing opportunity to be able to see them on land. Here are a few facts about this brilliant birds:
When on land, puffins nest underground in burrows
They beat their wings up to 400 times a minute
To catch sand eels, they can dive over 200ft under the water
Baby puffins are called pufflings!
Upon returning to the mainland there was the habitual trip to the gift shop at the Seabird Centre, and Joely was really pleased to spy the beautiful works of artist Emma Ball for sale, including the fridge magnets and iPhone cases that we make for her collection. Emma's talents perfectly capture the local landscape and its inhabitants, including the Bass Rock and the colourful puffins.


The Scottish Seabird centre is definitely worth a visit, but if you can't get there they have several links on their website to their live webcams so you can bird watch from the comfort of your own home.